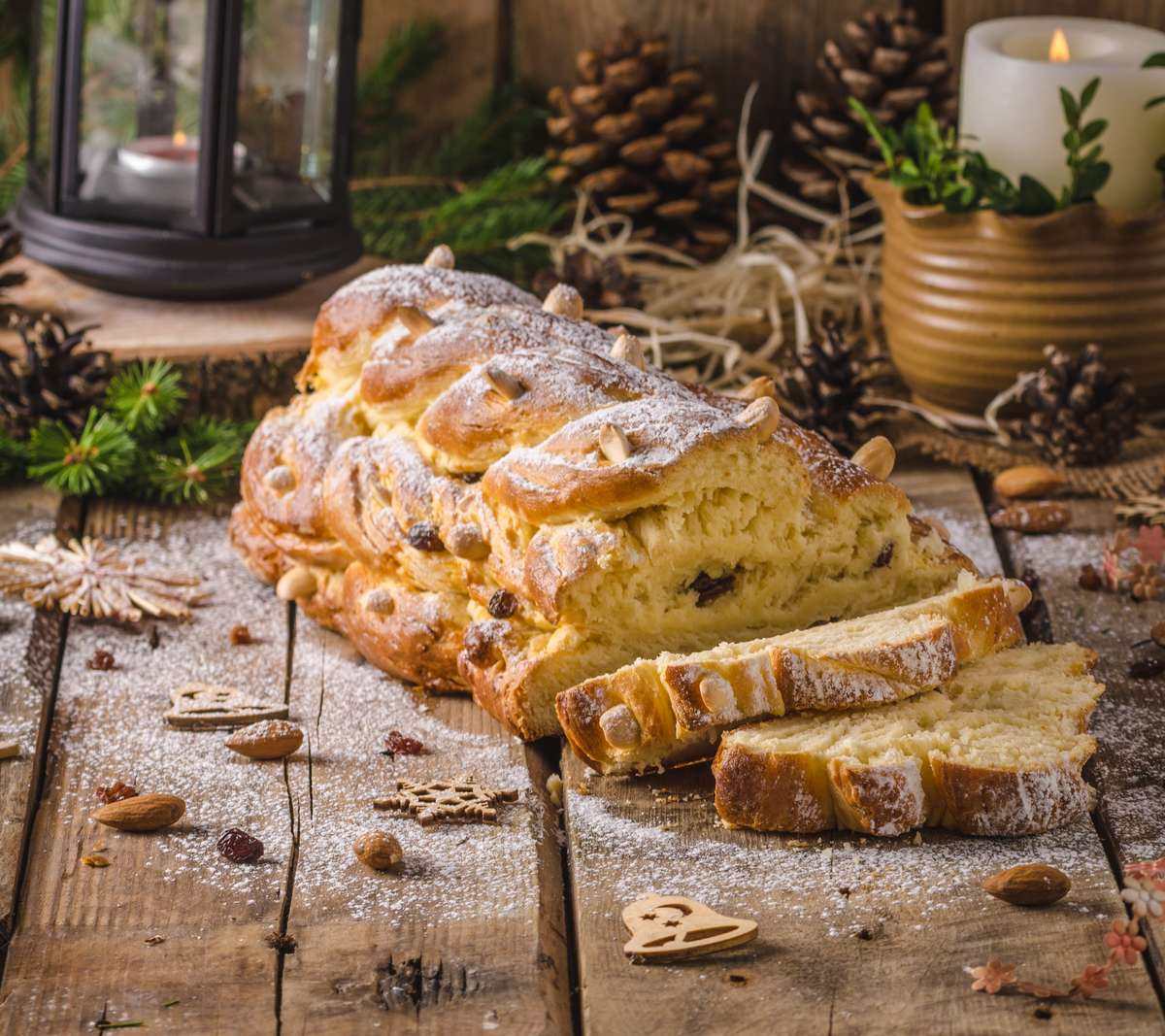 Pivovar Sundays of Advent 3/4 - ''Vaanochka''
Pivovar Sundays of Advent 3/4 - ''Vaanochka''
2 ¼ Cup Plain Flour
⅔ Cup Milk
⅓ Cup Melted Cooled Down Butter
⅓ Cup Caster Sugar
⅕ Cup Raisins
⅕ Sliced Almonds
2 TBSP Fresh Yeast
1 Whole Egg
1 TBSP Vanilla Extract
1 TSP Dried Lemon Peel
Egg Wash
Salt
1) Put flour, sugar and a pinch of salt in a (robot) bowl. Mix everything together and make a hole in the centre of the dough. Add about half of the milk and crumble the yeast in. Mix it together with the flour to form a thin batter. Cover and let the yeast rise - for about 15 to 20 minutes. The yeast should increase in volume and have a lot of bubbles in it.
2) Add the remaining milk to the yeast and flour. Add the eggs, melted butter, vanilla extract and lemon zest. Insert the kneading hook and knead in the robot for 7 minutes or by hand until thoroughly mixed.. Add the raisins and knead for a while. The dough should be nicely smooth and should peel off the bowl wall easily.
3) Place the dough back in the bowl, cover with foil and leave to rise for 60 minutes. Roll out the rested dough on your worktop. Divide the dough into 6 equal parts according to weight. Turn each part into a ball and let it rest again for a while. Then spread it with your palms into roughly 11 inches long strands.
4) Spread the strands on your worktop and weave them together gradually (you can see the detailed method here). Once knitted, press both ends and fold under the Vaanochka. Place it on a baking sheet (lined with baking paper), cover and leave to rise for at least 60 minutes until it visibly increases in volume.
5) In the meantime, preheat the oven to 350°C. Once the Vaanochka has risen, wash it with a beaten egg and sprinkle with almonds. Put in the oven, reduce the temperature to 320°F and bake for about 45 minutes. In the middle of baking time, check the Vaanochka and if it turns golden on the surface too quickly, cover it with a piece of foil. Place the baked goodie on a grid and let it cool completely before cutting. Additionally, sprinkle with powdered sugar.
Share your results and tag us @pivovarwaco ~ Dobrou chuť!